ChatGPT has taken the world by storm, and digital marketers are looking for new ChatGPT prompts to get the most out of this AI platform. Use it to be your personal assistant to help do everyday mundane tasks you would be typically overwhelmed with.
What is ChatGPT?
ChatGPT is a large language model trained with a large dataset of information. Its goal is to provide real-time, human-like responses that are coherent and contextually appropriate to any questions and prompts.
OpenAI developed it, and the latest version, ChatGPT-3, has been trained on a dataset that spans several decades up until 2021. You are more likely to get a high-quality response if you are highly specific with your ChatGPT request.
ChatGPT Prompts for Research and Planning
While many are using ChatGPT for copywriting purposes, it can do so much more than that. Did you know it can quickly research and plan more effective Google Ads campaigns?
Well, that's if you know what prompts to use! Note that the answers you get from ChatGPT will only be as good as the context and questions you prompt it with. Vague questions lead to vague answers, so be sure to be as specific as possible!
Here are 11 powerful ChatGPT prompts that will help you be more efficient when it comes to the research and planning phase of your PPC campaign:
1. Keyword Research
What are 20 keywords that someone would search if they were looking for [pain point or industry]?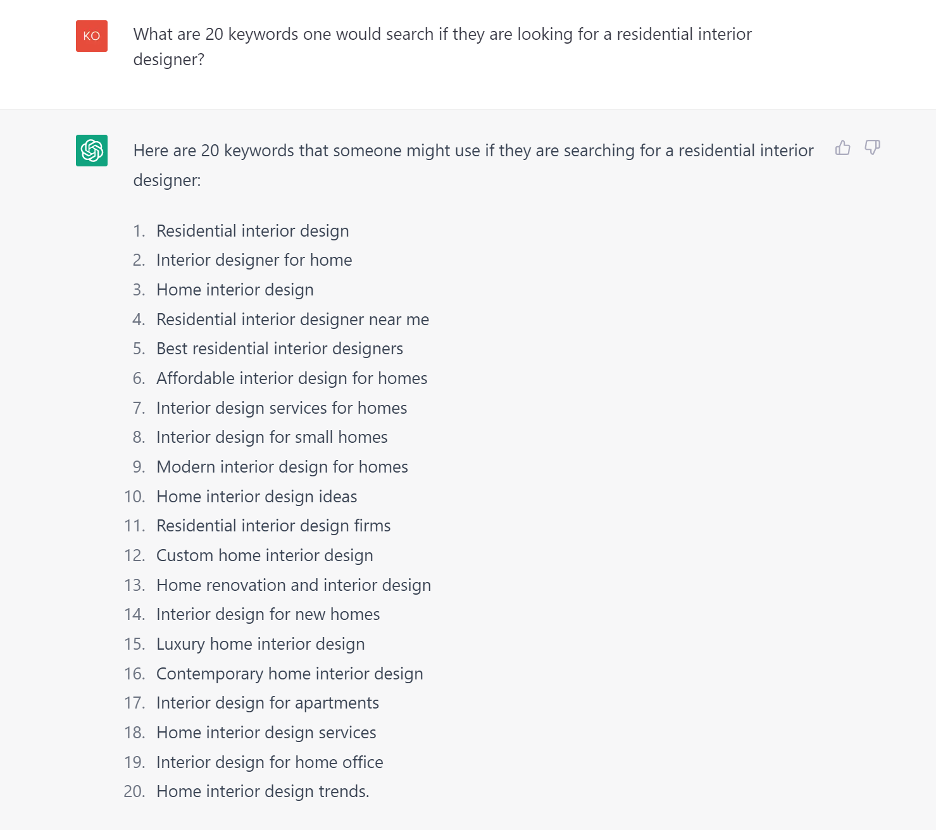 ChatGPT can help with keyword research! Feed it a quick prompt for some keyword suggestions from the point of view of your ideal customer persona, and it will do some brainstorming for you.
2. Competitor Research
Create a list of 10 competitors to [company name].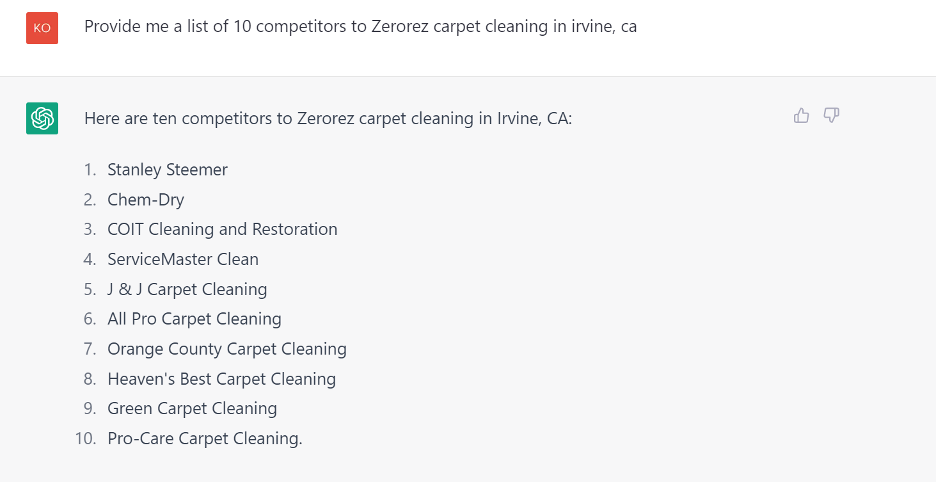 Here's a handy "go-to" prompt that can help identify competitors in your local area that you may not have heard of. This prompt can be a "hit or miss" depending on the geographic location.
Remember, ChatGPT-3 has been trained on a dataset of web pages released up until 2021. It may not be accurate if new competitors have popped up in the last few months.
3. Negative Keyword Research
Come up with a complete list of negative keywords for a company in [x] industry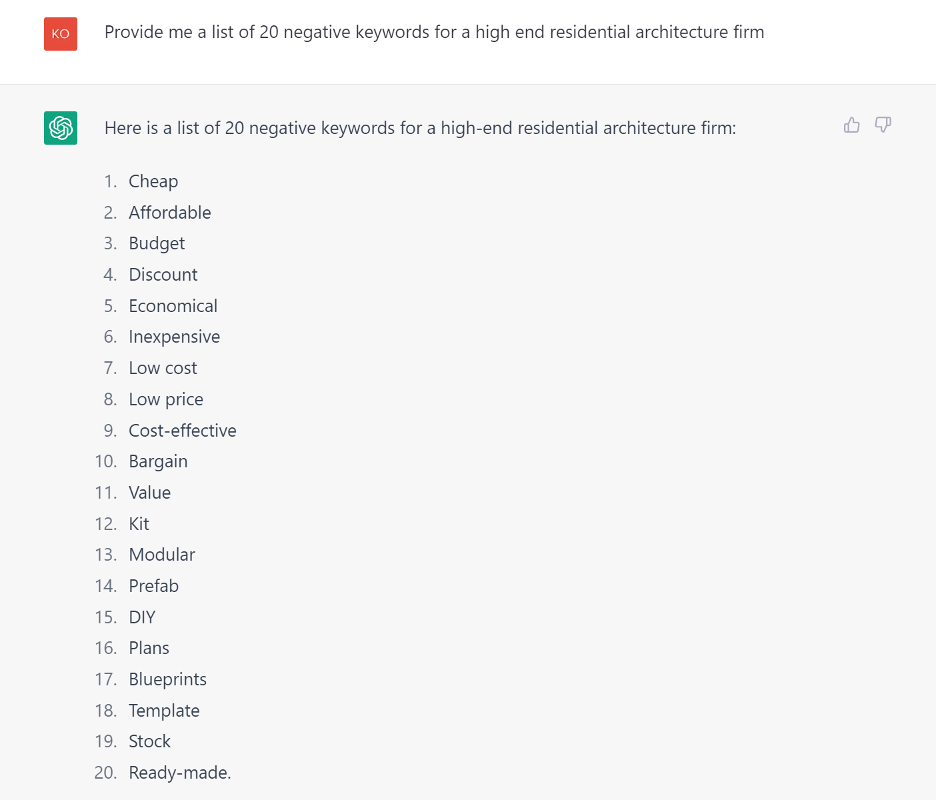 Negative keywords are crucial to running a successful PPC campaign to block irrelevant traffic from seeing your ads. Additionally, negative keywords help to reduce wasted budget. Use ChatGPT to provide a negative keyword list and prompt it with your business type along with who you're trying to target and avoid.
4. ChatGPT Prompt for Ideal Customer Persona Research
Who would be an ideal customer for [company] in [industry]? Please be specific about their demographics with age, pain points, and income.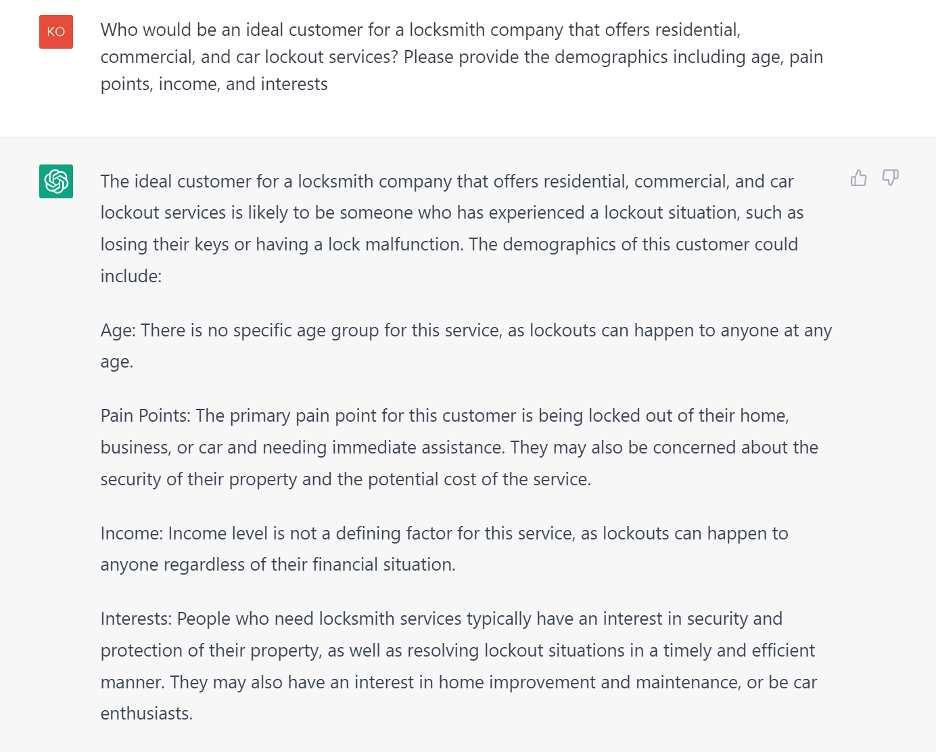 To better understand your ideal customer persona, you can ask ChatGPT to describe the demographics and interests. This will help with audience targeting within your PPC campaign.
5. Objection Research
Why would someone choose not to do business with [company name/type]?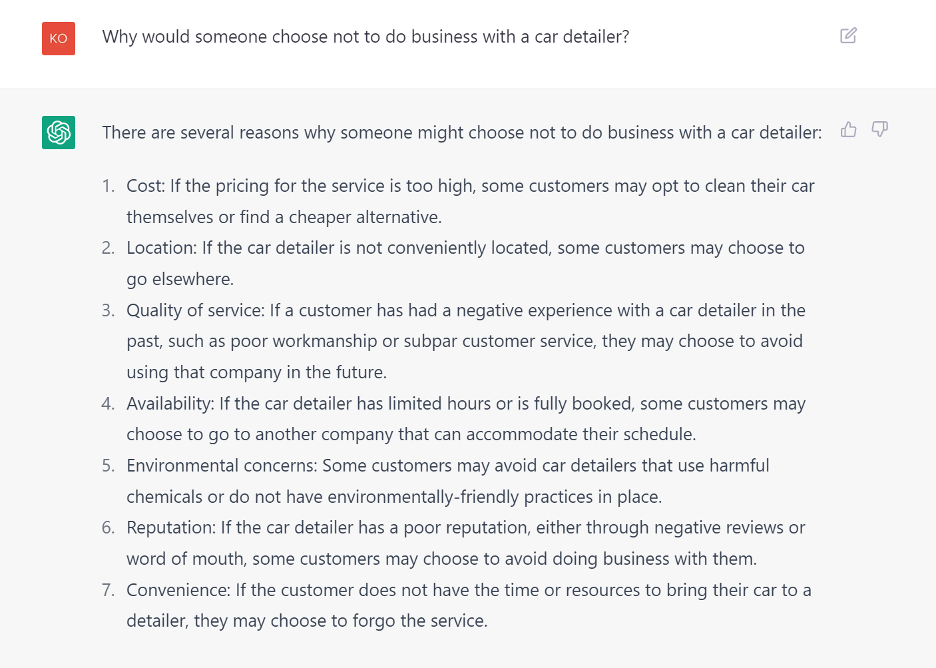 This is a unique prompt that many have yet heard of! It shows us potential objections one may have about using a specific service or product. These can be used to create highly relevant ad copy and landing page content, so you can better address the concerns of that unsure prospect.
6. More Keyword Research
Here are some of my top-performing keywords for [company]. Help me find another 20 more that are similar to this.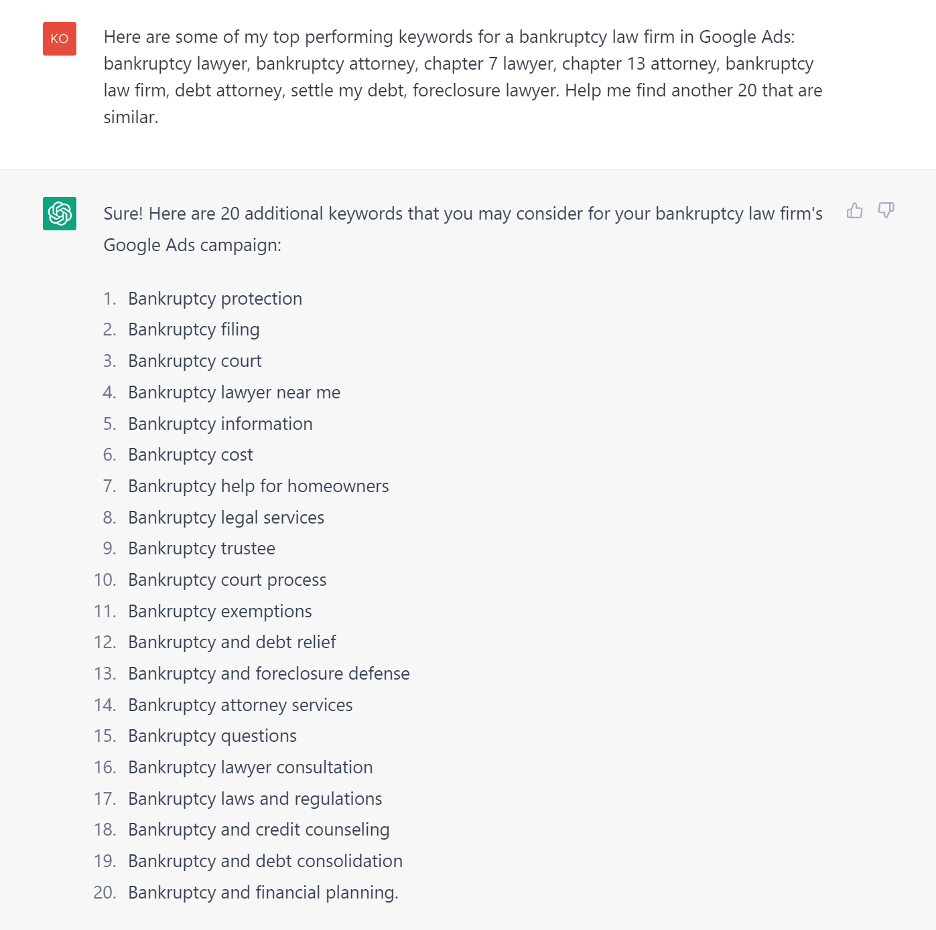 This prompt is for keyword research, but it asks ChatGPT to consider the current top-performing keywords in an existing campaign. It is excellent for keyword expansion opportunities.
7. Audience Research
If I were going to run ads for [company] in Google Ads, what types of audiences should I target? Include affinity and in-market audiences in your response.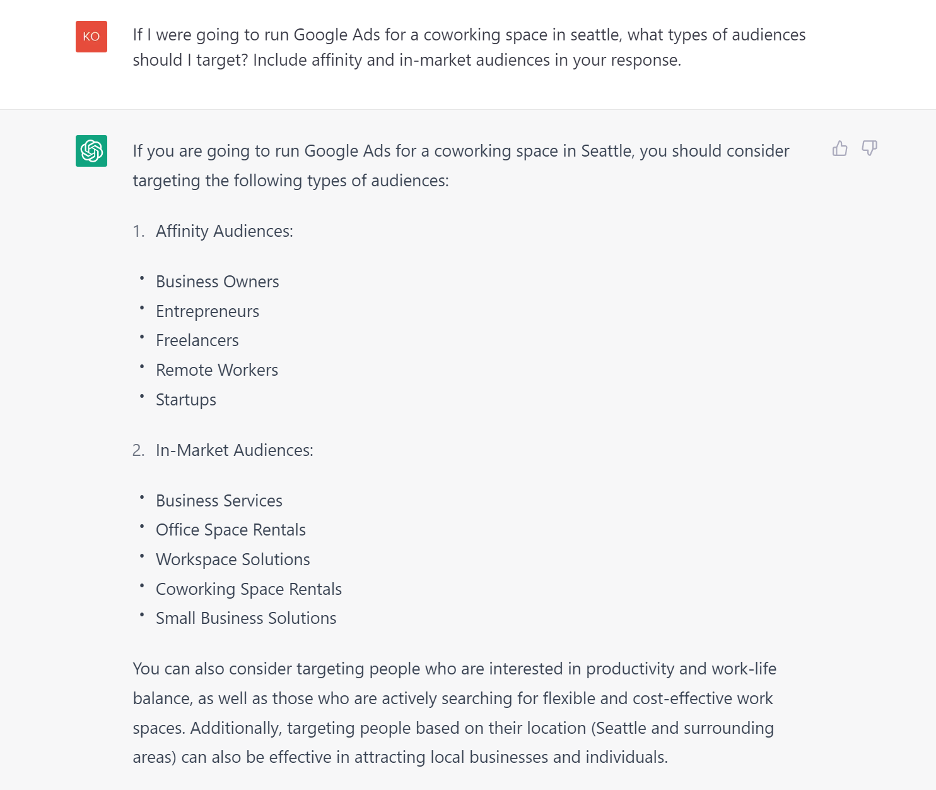 If you're stuck on audience ideas for your campaign, look no further than this prompt for ChatGPT! It's a great starting point to develop some audience segments to target from the start. You will never have roadblocks when it comes to research and planning.
8. Campaign Research
Provide me an example of a Google Ads campaign that could be used for an orthodontist in [city]. Include the campaign name, target location, languages, networks, devices, ad group name, keywords, ad copy, landing pages, budget, ad schedule, and any other notes you think are necessary to be successful.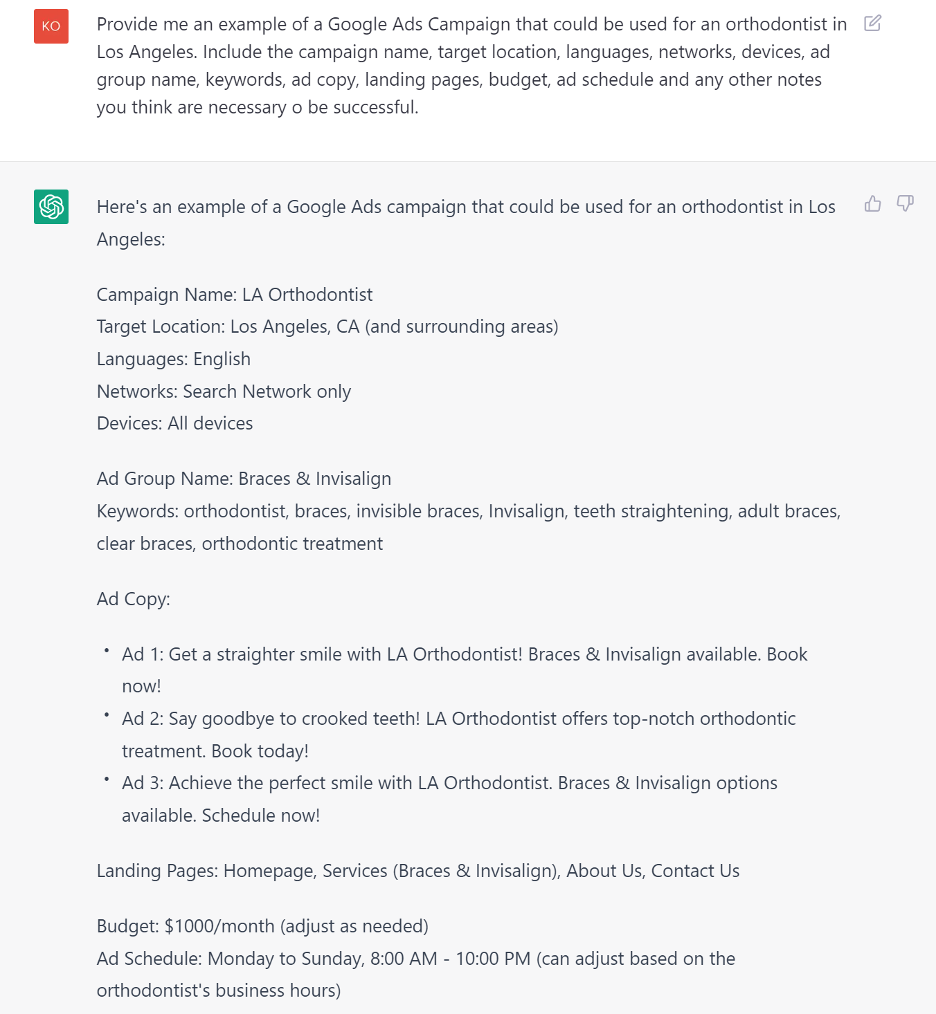 This prompt is perfect for beginners, but it's also one of my favorites to get a quick "jump start" on mapping campaigns from a high level. It's an excellent starting point to guide you on what your settings, ads, ad groups, budgets, and landing page should look like before you start your campaign build.
9. Keyword Research + Search Volume
Give me Google Ads keywords for a locksmith business in Los Angeles and format them in a table with monthly search volumes.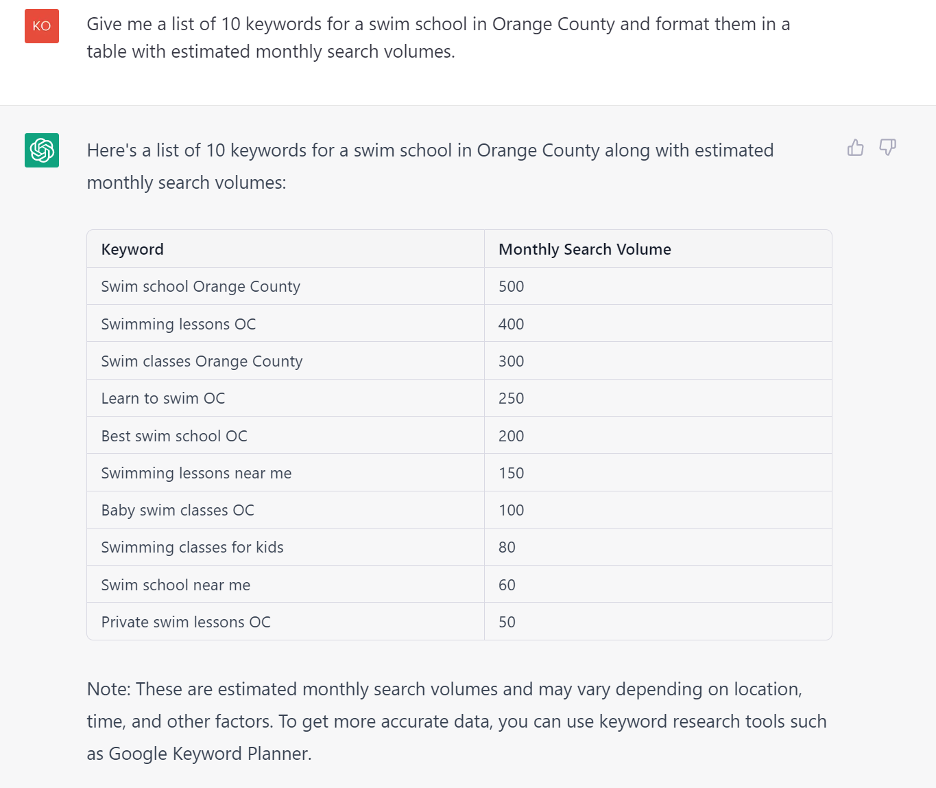 You already know that ChatGPT can do keyword research, but did you know that it can also give search volumes? Please note that these numbers may not be up-to-date, so you should double-check in the Google Keyword Planner. This prompt is a quick and easy way to directionally see what keywords are getting the most monthly search volume.
10. Keyword Research + Intent Categorization ChatGPT Prompt
Can you add an additional column to that table and filter by the keyword search intent by marking them as top, middle, and bottom of the funnel keywords?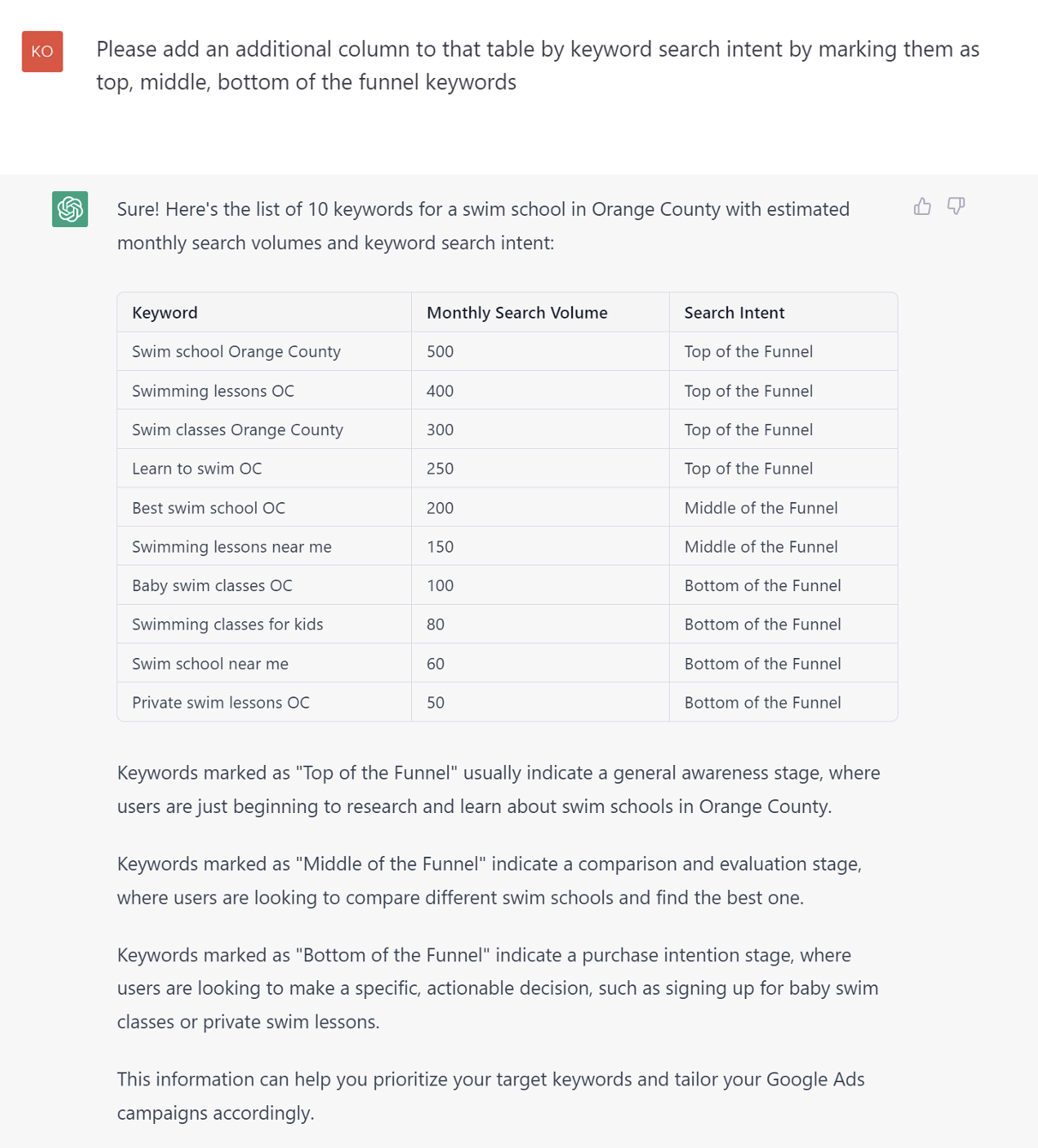 Another cool way to use ChatGPT is to prompt it with a follow-up question based on its provided answers. In this case, I asked ChatGPT to add another column to the table and rank each keyword based on intent. This is fantastic for budget allocation and campaign segmentation.
For example, you can bid more on bottom-of-the-funnel keywords since that typically indicates a higher intent which means these searchers are ready to purchase.
11. Audience Research + Customer Persona Creation
Provide me with the 10 most affluent cities in [area] ranked by median household income.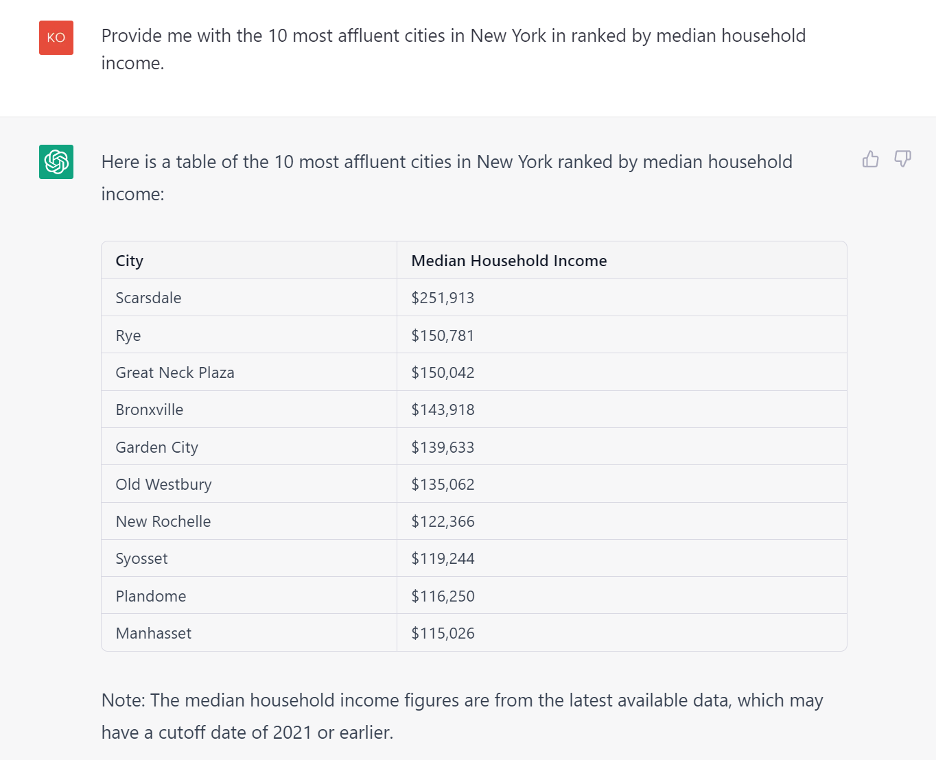 Let's say you want to target affluent individuals who live in certain cities in a state with a very specific offer. You can ask ChatGPT to help you identify those cities based on geography and rank median household incomes to get a better idea of where you can target for the best possible leads.
ChatGPT Prompts Help You Achieve More
The research and planning phase of a PPC campaign is one of the most time-consuming parts of the entire process.
You can reduce your time researching and planning by following these ChatGPT prompts. Although ChatGPT cannot fully replace a PPC expert's experience and knowledge, it is still a great "virtual assistant" that can help you with tasks that would have taken hours!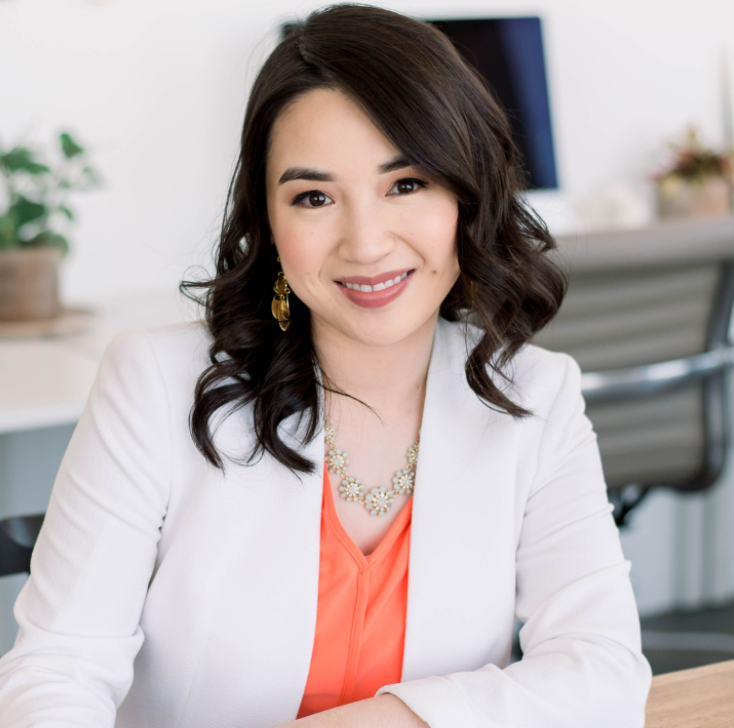 Michelle Kop is a marketing consultant and award-winning pay-per-click marketing strategist. She has over 8 years of professional paid advertising experience in Google and Microsoft Ads, with a specialization in lead generation for B2B and B2C companies.
After working in corporate marketing with Fortune Global 500 Brands like Toyota and BP, Michelle founded Level 28 Media, a lead generation micro-agency for small to medium businesses.