Google Guaranteed Local Service Ads is a new way for local businesses to generate new leads and offer extra reassurance to customers. But is this the right advertising option for your business?
With so many requirements and an air of exclusivity, many local businesses wonder if it's worth using. In this article, we take a look at what the program entails, how it can benefit your business, and if it's worth pursuing.
What is the Google Guarantee?
Google Guarantee is an advertising program designed to bolster user confidence and satisfaction when reaching out to local service providers. To join this program and receive the Google Guaranteed badge, advertisers must meet stringent qualification criteria.
When users book services from a Google Guaranteed business, they're protected with a satisfaction guarantee. This includes Google offering refunds up to a certain amount if the service does not meet their expectations. 
In the US, customers are eligible for up to $2,000 of lifetime coverage. Google will not cover any add-on projects, property damages, or dissatisfaction with pricing and cancellations.
This innovative program not only provides users with a sense of security but also encourages businesses to maintain high standards of service delivery.
It's also a separate advertising opportunity from the Google Ads platform as you will be paying for each lead instead of each time someone clicks on your ads.
Here are some businesses that are eligible for Google Guaranteed:
Appliance repair

Auto repair

HVAC

Locksmith services

Plumbing

Roofing
As of March 7, 2023, Google Guaranteed Local Service Ads are available to more than 70 types of businesses. 
How Does Google Guaranteed Benefit Small Businesses?
The Google Guaranteed badge enhances visibility in search results, instantly signaling reliability to potential customers. Your placement will be at the top of the search engine.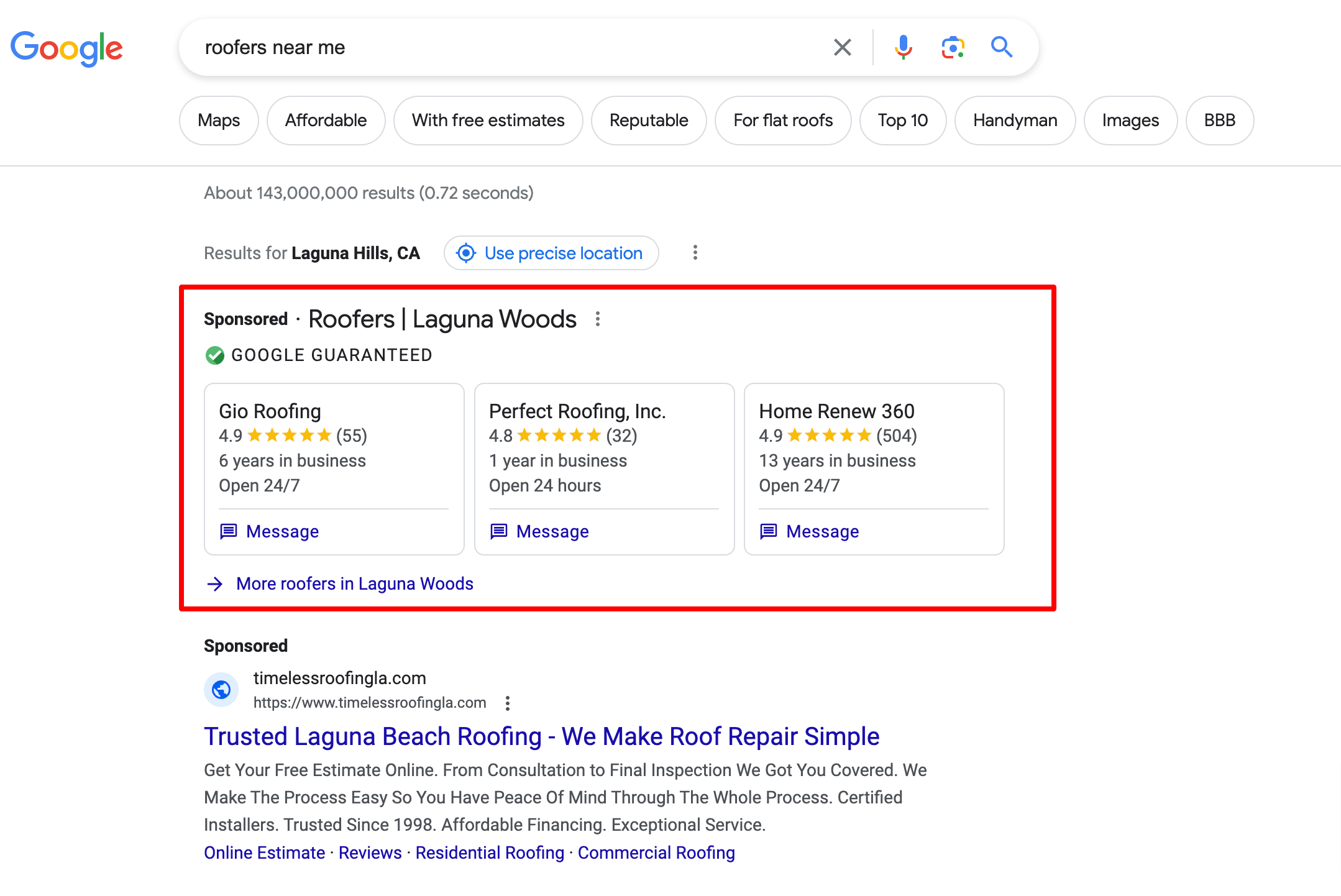 This boost in visibility drives more clicks and visits, directing qualified leads to the business.
Backed by Google's endorsement and a satisfaction guarantee, it reassures customers and fosters positive perceptions, especially beneficial for new or lesser-known businesses.
Small businesses can prominently display their commitment to quality, setting them apart from larger competitors and franchises.
Screening and Verification Process for Google Guaranteed
It's not that easy to get set up with Google Guarantee. First, you will need to register for Google Local Service Ads. Depending on your business category and location, Google may require different kinds of background checks and verifications.
For example, they may check your civil litigation history at a company level and conduct background checks for both owners and employees. Your business will also need to meet local license and insurance requirements.
Requirements may include but are not limited to:
A Google Business Profile that is connected to matching Local Service Ads

Background checks on owners, and in some cases, service professionals

Business license check

Insurance checks for general liability insurance and professional liability insurance

National Provider Identifier (NPI) verification if you are a healthcare provider

Up to 5 Google reviews
This process is strict since Google may have to reimburse customers should they ever be unsatisfied with the quality of your work. If they let everyone have a Google Guarantee badge, Google could be losing a ton of money!
How Much Does the Google Guaranteed Program Cost?
Unlike the PPC format of Google Ads, you will be paying for each lead you receive from the Google Guaranteed program. This is every time someone calls or connects to your service.
The cost per lead will vary depending on your industry and what budget you are setting for the campaign. You can also dispute leads that aren't legitimate if you find that the calls are not relevant.
What Are the Pros and Cons of Google Guaranteed Local Service Ads?
Pros of Local Service Ads
Simplicity and Convenience:

The program eliminates the need for keyword research and complex aspects of paid search advertising such as conversion tracking, bidding strategies, and negative keyword lists.

Pay For the Legitimate Leads:

With traditional Google Search Ads, you are paying for every click on your ad. Not all clicks will turn into leads. Local Service Ads have a leg up on Search Ads where you pay only for legitimate leads and can dispute ones that are not relevant.

Differentiates Your Business:

Qualifying for the Google Guaranteed badge can make your business stand out by increasing credibility and trust among potential customers.
Cons of Local Service Ads
Stringent Verification:

The verification process may be rigorous and time-consuming, potentially posing a challenge for some businesses.

Risk of Poor Reputation:

You must meet customer expectations to maintain a positive reputation and retain the Google Guarantee badge. Failing to satisfy customers could lead to negative reviews and the loss of the badge.

Lack of Control:

There aren't a lot of customization options. For example, you cannot edit ad copy or control what specific keywords your Local Service Ads are showing for. Additionally, there's no real strategy to bump up the number of leads besides potentially increasing your ad budget with Google Guarantee. Results can be random and not reliable (you cannot expect a minimum of a certain number of leads per week).
Does Your Business Need Google Guaranteed?
This is an appealing program for many businesses, especially since it does not involve keyword research and the more complex aspects of paid search advertising (conversion tracking, bidding strategies, negative keyword lists, etc.).
However, that doesn't mean you should ignore Google Ads completely. It does require a more extensive set-up process, but it gives you greater customization and more accurate performance tracking. Plus it is more predictable vs local service ads in Google Guarantee.
These two platforms can work together – it's not a mutually exclusive situation. This results in two lead generation sources for your business! Our general rule of thumb is to have both Google Guarantee and Google Ads to balance each other out and capture more real estate in search results.
If you are a local business that qualifies for the Google Guarantee Local Service Ads program, feel free to reach out  for a consultation if you need any help with verification or ads management!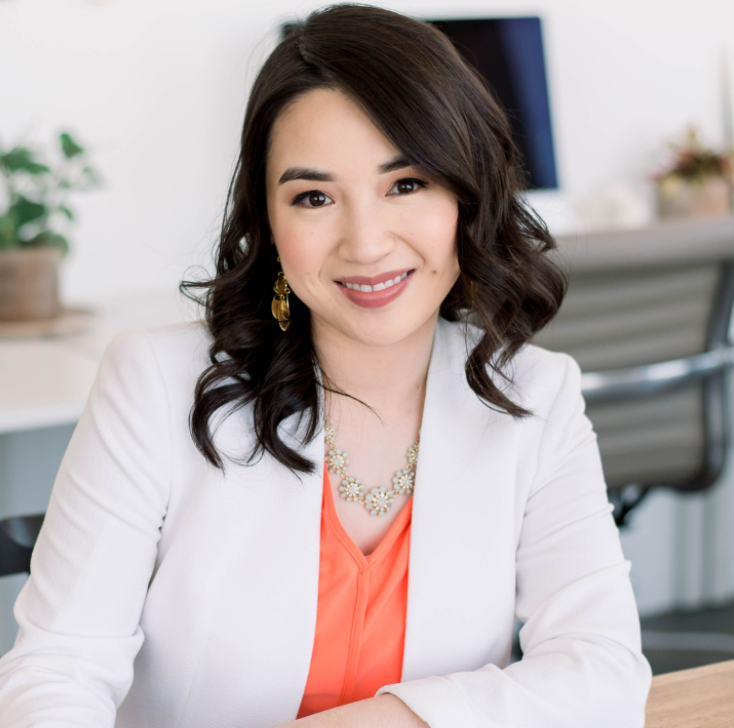 Michelle Kop is a marketing consultant and award-winning pay-per-click marketing strategist. She has over 8 years of professional paid advertising experience in Google and Microsoft Ads, with a specialization in lead generation for B2B and B2C companies.
After working in corporate marketing with Fortune Global 500 Brands like Toyota and BP, Michelle founded Level 28 Media, a lead generation micro-agency for small to medium businesses.