ChatGPT is changing how the world views artificial intelligence and is providing businesses with a powerful tool to assist in various marketing activities. But the key to unlocking its full potential is knowing which prompts to use!
With most marketers talking about how ChatGPT can be used for copywriting, many don't realize that it can be a helpful assistant for analytics, insights, and reporting! 
Here's a  list of 8 ChatGPT prompts you can use to generate insights quickly and assist with analytical activities related to PPC:
1. Excel Formula Lookup
Help with any Excel functions for anyone who is not savvy with Excel. Describe your issue and what you want Excel to do within ChatGPT.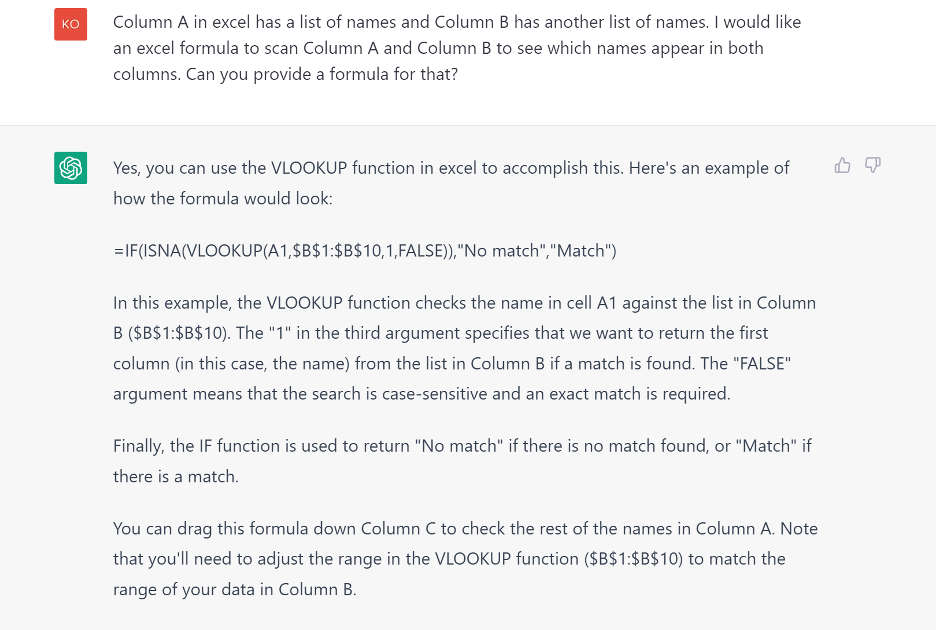 If you are unfamiliar with many Excel functions, you can use ChatGPT to help you identify the proper function and develop a formula. Just be very specific about your inputs and  what you're describing to ChatGPT because if you explain your starting point incorrectly, ChatGPT may cause more confusion for you!
2. Account Analysis Help
My conversion rate decreased by 10% in Google Ads. Where should I look to identify what caused this?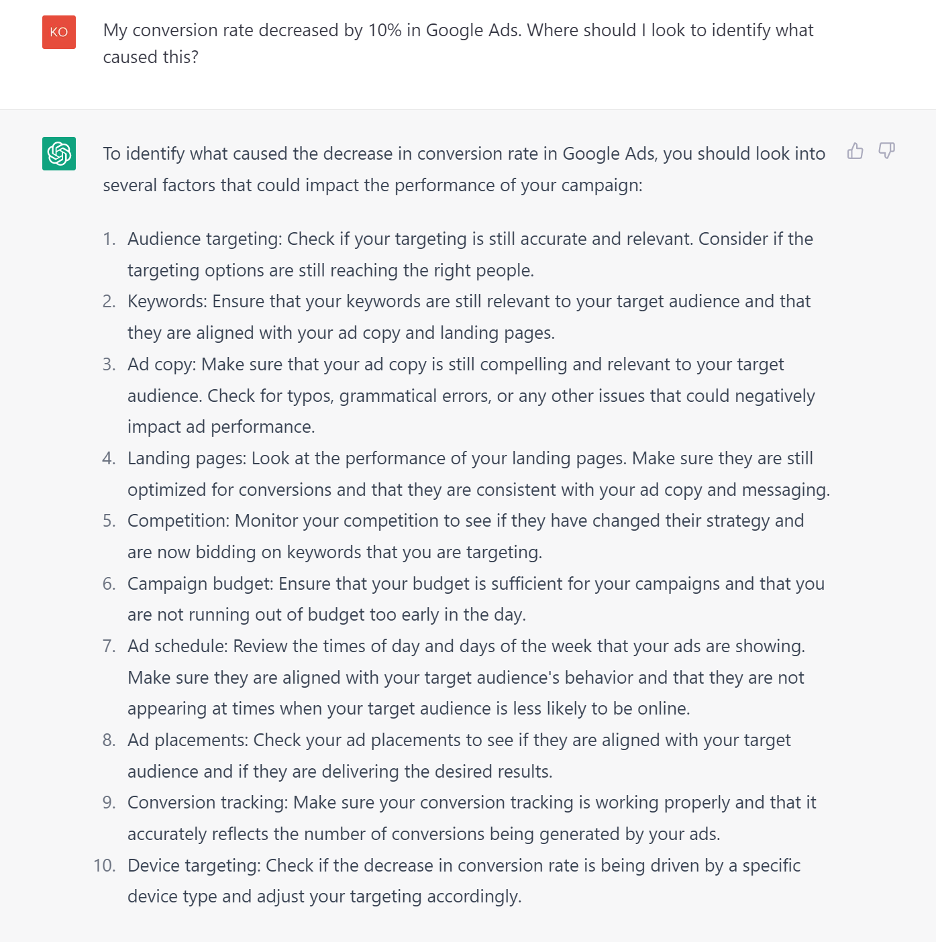 This prompt is excellent for those who need help with cause and effect analysis. If you see a dip in performance, you need to identify the cause, and ChatGPT gives you some places to look to diagnose the issue so it can be course-corrected.
3. Basic Data Analysis
Look at specific data points and provide an analysis with a quick bullet point summary of what happened. [then paste data into ChatGPT in a table format]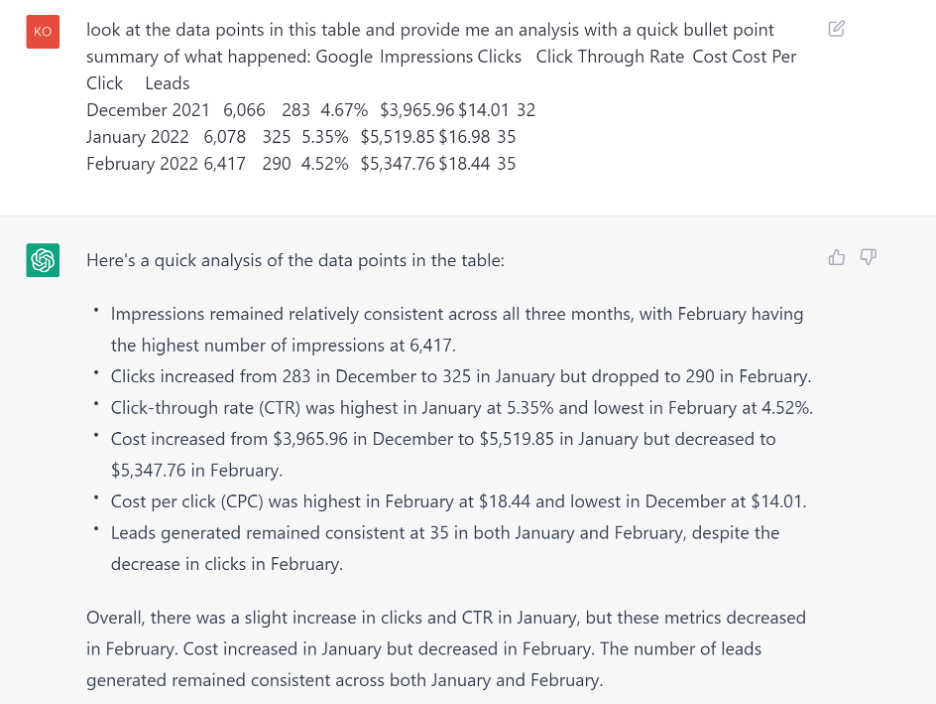 Get a table ready in Google Sheets or Microsoft Excel with your data points and get ChatGPT to analyze the numbers. It's pretty amazing how it can provide a quick bullet point summary of the trends within a matter of seconds!
4. Definitions of Certain Metrics
.
Act like a [certain type of expert] and explain [topic] like I'm 5 years old.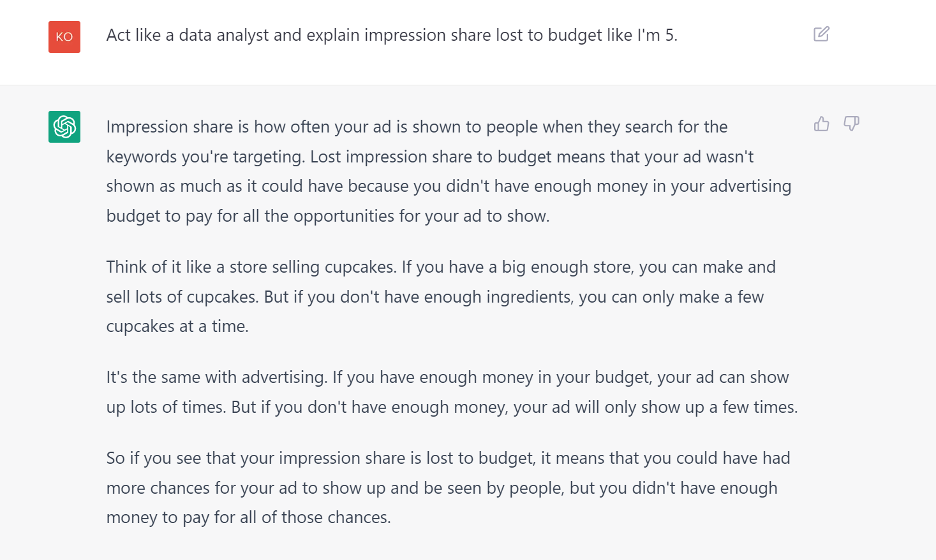 Have you tried to understand the definition of certain terms within the Google Ads platform, but it's just NOT making any sense? Ask ChatGPT to break down a technical term and explain it to you like you're 5. You will likely understand it much better than you did before!
5. Performance Improvements
How can you make improvements to campaigns based on certain restrictions?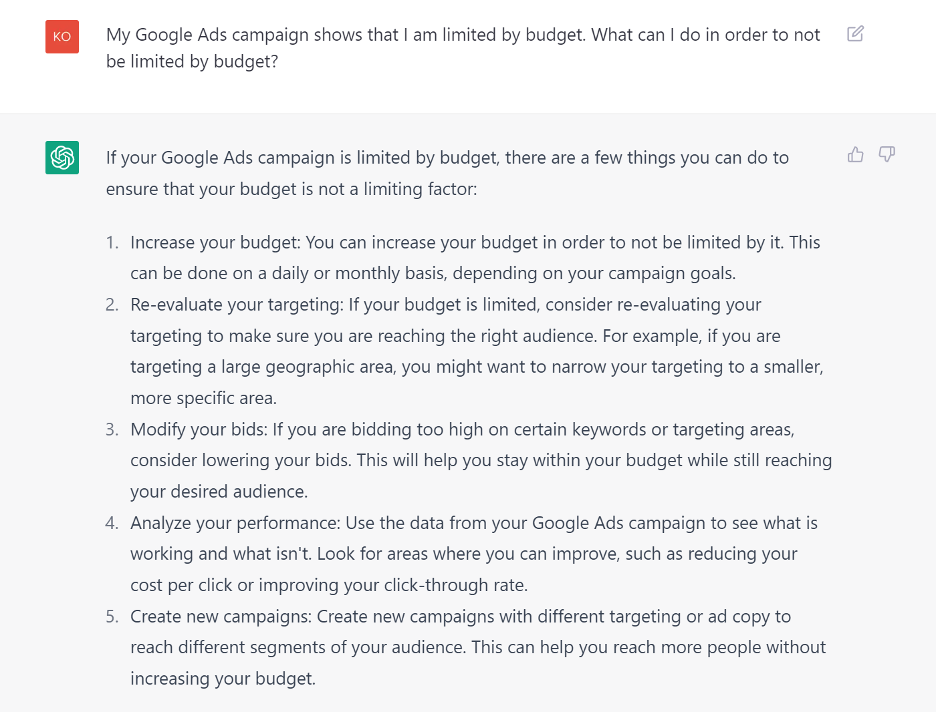 Let's say you're getting a notification that you're limited by budget, but you don't know what to do besides increase your budget. This is the perfect prompt for you! You can also feed ChatGPT your limitations, such as daily budget restrictions, to get some ideas on how to get results with your limited budget.
6. Data Visualization
Create a graph in Excel with a data chart.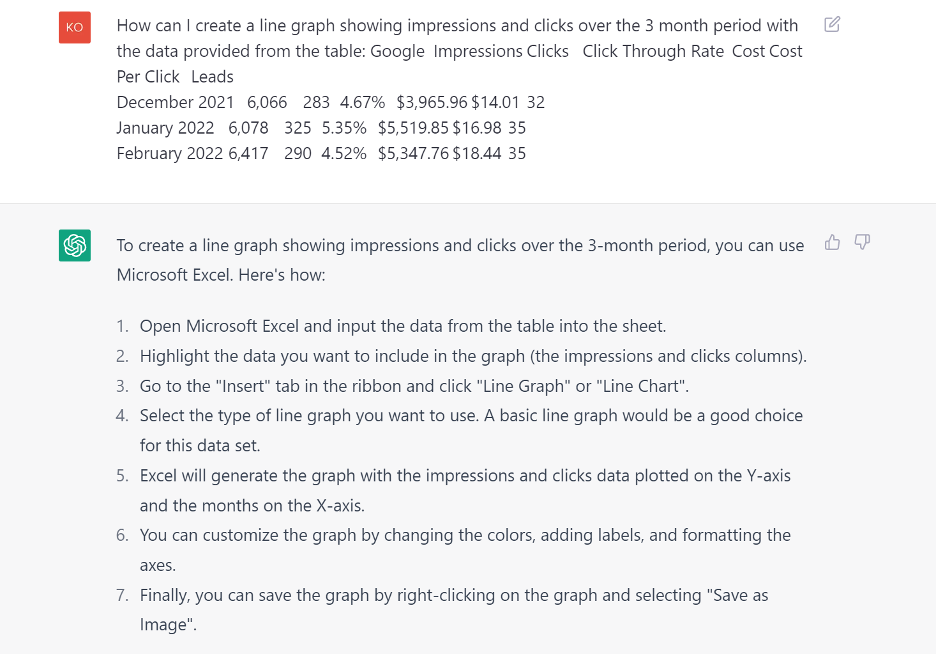 This is powerful if you need to become savvier with Excel. However, you still want to be able to represent your data visually. You will get step-by-step instructions to help you with data visualization!
7. Basic Recommendations for Tools – CRO, Landing Pages, Analytics
If you're looking for a new PPC tool to make your life easier, ask ChatGPT to provide some recommendations.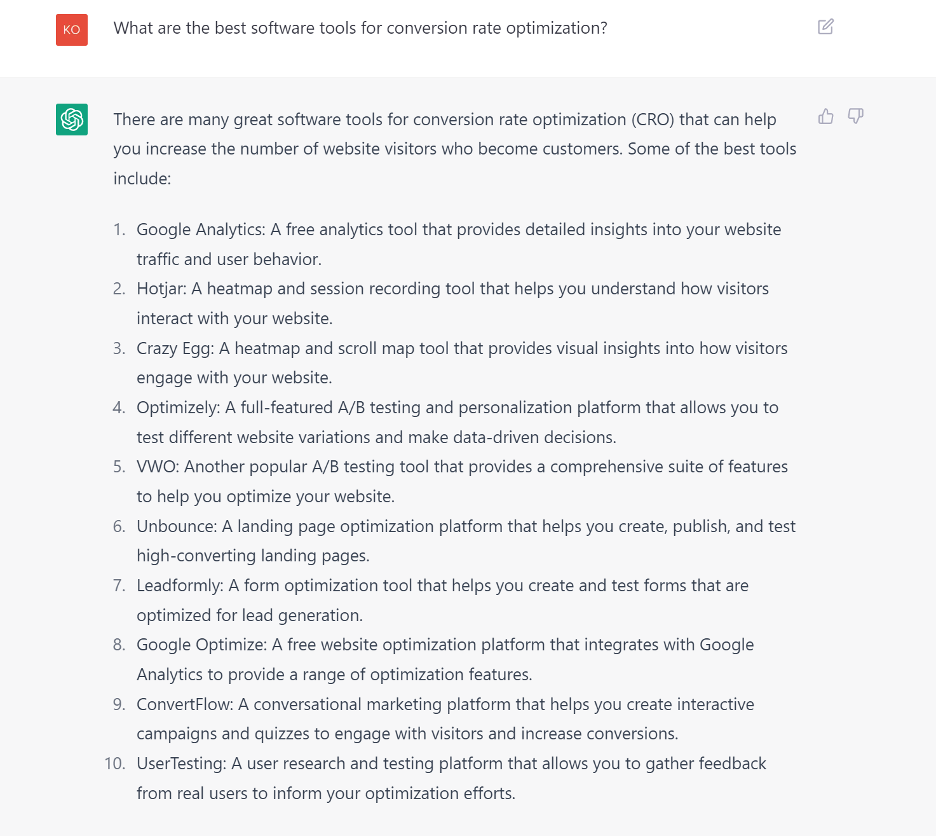 8. Analysis: Scan My Search Query Reports
Watch my video to see how you can use ChatGPT to scan your search query reports! Junior-level PPC marketers or interns typically do this task, but now you can save time and resources with this ChatGPT secret.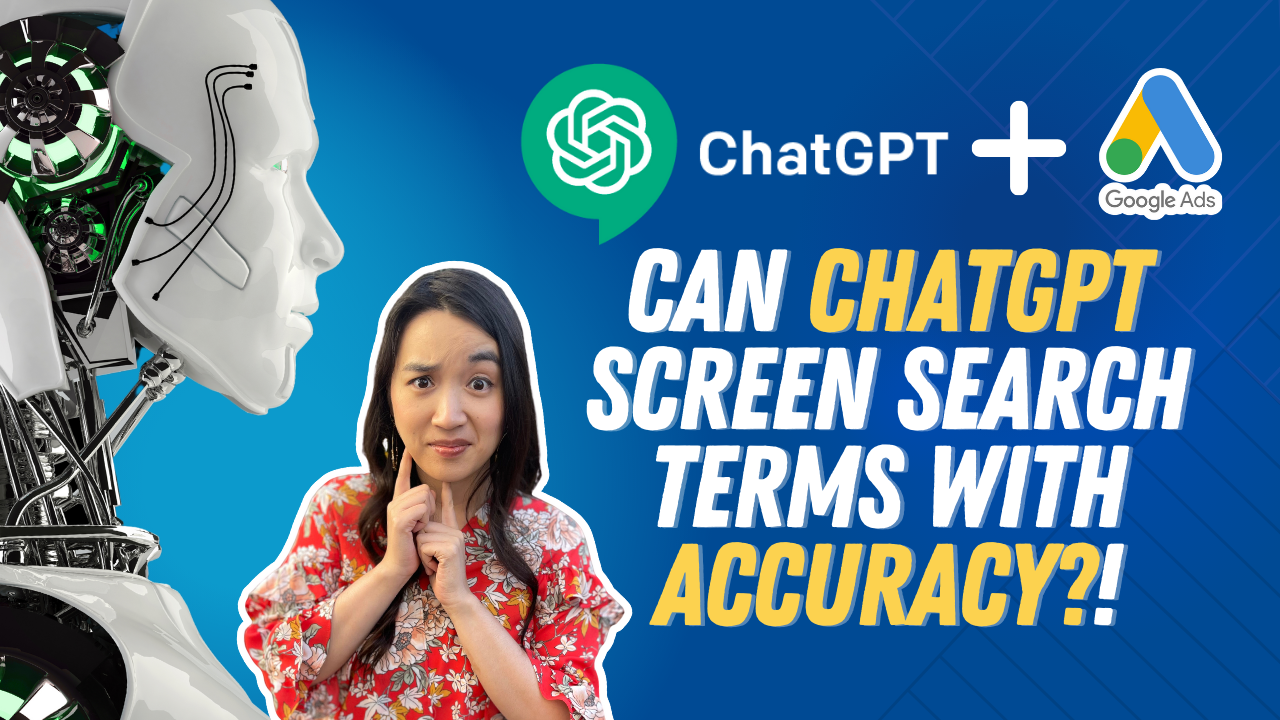 ChatGPT is Your New Reporting Assistant
Analyzing your PPC results can be one of the most challenging parts of running a full-fledged campaign. While ChatGPT cannot provide recommendations yet, it makes it easier for you to create reports and can help with the initial trend analysis.
Want more ChatGPT prompts for PPC research and planning? Read more here.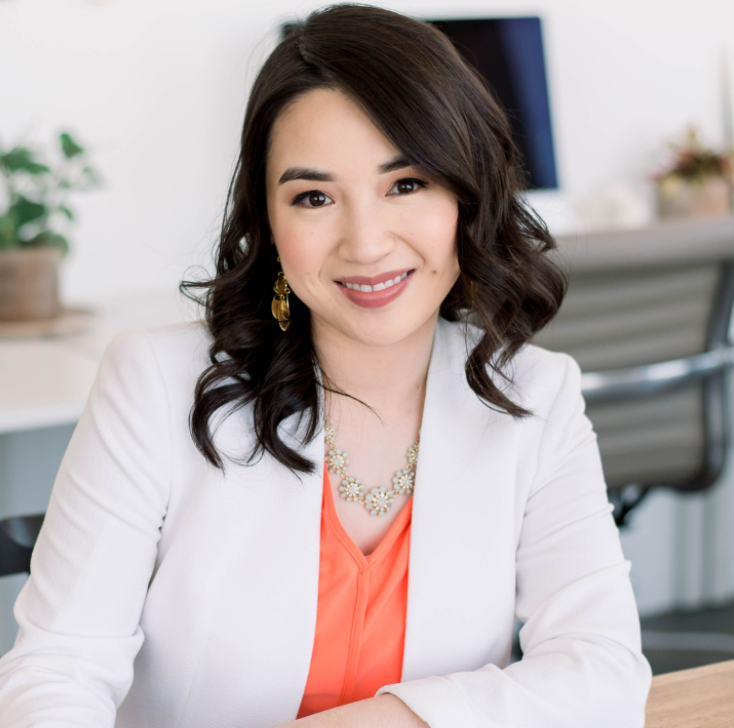 Michelle Kop is a marketing consultant and award-winning pay-per-click marketing strategist. She has over 8 years of professional paid advertising experience in Google and Microsoft Ads, with a specialization in lead generation for B2B and B2C companies.
After working in corporate marketing with Fortune Global 500 Brands like Toyota and BP, Michelle founded Level 28 Media, a lead generation micro-agency for small to medium businesses.