Looking to generate more new lead opportunities for your law firm? PPC is an appealing lead generation channel for so many businesses and law firms are taking notice. However, many firms are missing the mark when it comes to an effective PPC strategy.
PPC can be a rewarding marketing channel, but it's often executed poorly which results in many law firms losing faith in advertising and digital marketing in general. In this article, we'll share why PPC is a great lead generation tool for law firms and four winning PPC strategies that we've used to get outstanding results for our legal clients!
Why PPC Firms Should Use PPC
Many law firms wonder if it's worth investing in pay-per-click (PPC) advertising. While it does require a large upfront investment because of how competitive it is, there are tons of upsides in implementing PPC for your firm.
Target The Exact Clients You Are Looking For
Unlike mailers or billboard ads, PPC allows law firms to advertise directly to ideal clients in a precise way. You can bid on keywords that are used by people actively searching for legal services in their area. For example, if you are a bankruptcy attorney, you can target keywords like bankruptcy attorney near me or ch 7 bankruptcy attorney.
You can also target specific geographic areas and income levels. This gives you greater control over where your ads show up and increases conversion rates.
Greater Online Visibility
More people are relying on the internet to find a service rather than on recommendations from friends and family. PPC increases your online footprint since you can advertise on popular search engine platforms like Google and Microsoft Ads (Bing). With Google, you can bid to appear in the top three to four spots above organic search results and even in the Google Business Profile listings.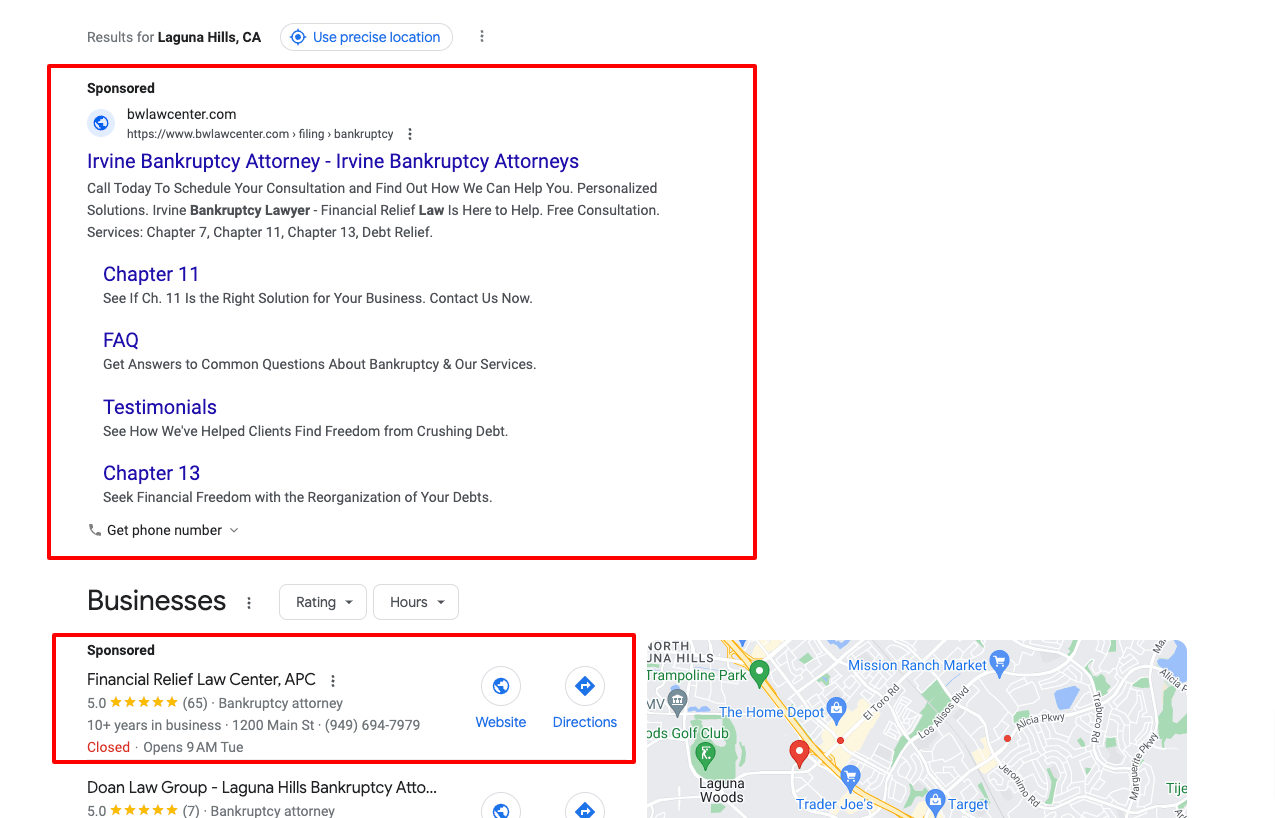 Greater online visibility means more prospective clients learning about your law firm which can drive more traffic and new client inquiries.
PPC provides measurable ROI and valuable data insights that other traditional marketing channels cannot provide in real time. You will be able to know exactly how many clicks your ad received, how many conversions came in via ads, the cost per lead, and more. If you know your customer lifetime value, you can quickly see if PPC is working or not.
With more data, you can also adjust your campaign to improve performance. This could be improving the ad copy, adjusting what demographics you are targeting, and even the time of day your ad is served. 
Instead of wondering what is working, PPC gives you the actionable data you need to make smart decisions about your campaign.
Quicker Results Than With SEO Strategies
Assuming your campaign is built correctly, you will be able to see PPC results a lot faster than with SEO. It takes about 1-3 months to see results with PPC, but it can take SEO strategies at least six months to a year to be effective (sometimes more or sometimes less depending on how competitive your market is).
With SEO, the goal is to rank in the top spot on Google for certain keywords. However, you have to account for multiple factors that can affect your rankings and organic traffic. This includes how well your website is built, domain authority, competition, website content, and Google search engine updates. 
PPC is an advertising channel, so many platforms will factor in how well your campaign is built along with how much you are willing to bid on keywords. This allows you to quickly build a campaign that is more competitive than with an organic strategy.
This doesn't mean SEO is a bad strategy. In fact, many law firms use both PPC and SEO! These are strategies that complement each other well. But PPC can help you see quicker returns if done correctly.
Winning PPC Strategies for Law Firms
1. Selecting Relevant Keywords
Choosing keywords that are too broad (lawyer near me, law firm in los angeles) will result in a lot of wasted budget and poor quality leads.
Instead, you need to choose keywords based on your practice area or the services you offer. Do you practice an area of law where clients need to speak to you ASAP (think DUI cases)? Or is it a more relationship-oriented service such as family law related to divorces and custody issues?
It also helps to include the geographic area that you serve. For example, these are keywords like DUI lawyer in Orange County, CA or divorce attorney in Irvine ca. 
Use the Google Keyword Planner to brainstorm targeted keywords and see how much the CPC is.
2. Address Pain Points in Your Ad Copy
With so much competition and high costs, you cannot afford to have ineffective ad copy.
Highlight what makes your law firm different from others while also addressing pain points that potential clients have.
For example, bankruptcy attorney ads can use phrases such as "Facing creditor harassment?" and "Don't tackle financial stress alone." With DUI lawyers, you can write ad copy that relates to helping clients get their life back on track.
By resonating with pain points, your targeted audience will be more likely to choose your law firm since you understand their current challenges.
Google Ads uses AI and machine learning to test which headline and description combinations work best, so make sure you use all of your ad real estate. This means providing the maximum amount of headlines and descriptions.
3. Humanize Your Firm on Your Landing Page
Getting prospects to click on your ads is only half the battle. Your landing page is critical in converting a click into an actual inquiry.
Many people are hesitant to reach out to lawyers. By humanizing your firm and putting a face to a name, your targeted audience will be more likely to reach out to you versus the competition.
Avoid using stock photos when possible. It's impersonal and does not offer any credibility. Use actual images and videos of you and your team–people will want to know who they are working with! You can also share a little more about yourself than the standard bio of graduation dates and law experiences. 
For many businesses, customer testimonials can build that sense of credibility but those are hard to come by for many law firms. This is especially true if you practice in an area of law such as divorce or criminal cases.
Instead, you can utilize facts and figures. How much have you won in settlements? How many cases have you taken on? These can help build credibility without having to use testimonials.
4. Have a Negative Keyword List
Ideally, you'll want to start out with an extensive negative keyword list and it should have tons of keywords you don't want your ad showing for. If you wait a month or two before implementing a negative keyword list, you will waste a lot of money.
If you are using broad match, it's very common that your ads may be shown for legal services that you don't offer. Sometimes bankruptcy ads can be shown with divorce or family law keywords!
Informational searches or job-related searches can also eat up a lot of your budget. These are searches such as:
law firms hiring near me
bankruptcy lawyer jobs,
how to become a bankruptcy lawyer. 
You need to keep a close eye out on your search terms report. It reveals exactly what search terms people are using that are triggering your ads. As your account matures, you can add on any competitor keywords or any irrelevant keywords that are triggering your ads.
What Law Firms Need to Spend on Ad Budget
Having a large enough budget is critical to even be competitive in the PPC law firm space. Practices that are new to PPC sometimes want to start with a budget as low as $300 per month. But that's not going to work!
While there's no one-size-fits-all answer, budgets less than $2,000 are often considered too small for a robust and competitive PPC campaign in the legal field.
To determine what budget to set, look at the average cost-per-click (CPC) for your targeted keywords. From there, you can estimate how many clicks you want to receive per day and build a budget from there.
Your area of practice and competition level will also affect the CPC prices. Personal injury law keywords tend to be the most expensive. 
PPC and Your Marketing Strategy
PPC can complement any of your current digital marketing efforts, but it's critical to build a campaign correctly to avoid wasted budget and poor results. With every click costing so much, you need to make sure you are doing PPC correctly.
If you are looking for a partner to create and implement an effective PPC strategy or your law firm, contact Level 28 Media today for a free consultation.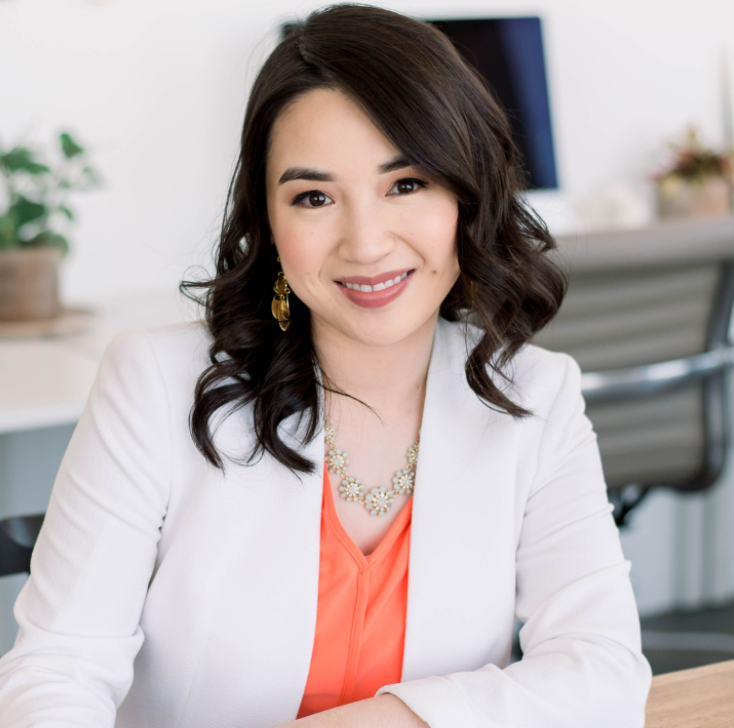 Michelle Kop is a marketing consultant and award-winning pay-per-click marketing strategist. She has over 8 years of professional paid advertising experience in Google and Microsoft Ads, with a specialization in lead generation for B2B and B2C companies.
After working in corporate marketing with Fortune Global 500 Brands like Toyota and BP, Michelle founded Level 28 Media, a lead generation micro-agency for small to medium businesses.