With more remote and hybrid work opportunities, the demand and competition for coworking spaces are increasing. To attract and retain coworking members, more flex space companies are turning to Pay-Per-Click (PPC) advertising. However, it's easy to make common mistakes that impact the performance of your campaign. 
In this blog, we will share 5 winning PPC strategies for coworking spaces that you can implement to drive more conversions and get more out of your budget!
What is PPC for Coworking Spaces?
Pay-per-click (PPC) is an online marketing strategy where the advertisers pay for every click that has been made on their ad. It's a way to help generate more leads and target your ideal customers who are actively searching for specific services and products.
Google and Microsoft Ads (Formerly Bing) platforms are the most prominent PPC advertising platforms where you can bid on specific keywords and serve your ads to users using their respective search engines.
PPC is a popular marketing channel because you can precisely target searches based on what they are searching for, location, and demographics. As an advertiser, you can also have greater control of your budget and can track exactly where your leads are coming from, unlike traditional marketing channels like billboards or flyers.
5 PPC Strategies for Coworking Spaces
Now that you know how PPC works, let's dive into five practical strategies you can implement.
1. Set a Big Enough Budget
One of the biggest mistakes that coworking businesses make is starting with too small of a budget. While saving money is a great thing, small budgets will constrict campaigns—especially if the cost per click (CPC) for each keyword is expensive.
For example, if the cost per click is $15 for your keyword and your daily budget is set at $30, then your ads won't be served after two clicks since you hit your daily max budget.
That's why you need to factor in your CPC when setting your budget. Collecting data is critical to your campaign's success, so you need a big enough budget for the campaign to "hit the ground running". 
Depending on your targeted geography and how competitive it is, the clicks can be expensive, especially for "office space" keywords. 
PPC does involve a big upfront investment, but if your customer lifetime value is significant, then how much you spend on your budget doesn't matter.
2. Don't Target Cities Too Far From Your Coworking Location
Understanding customer behavior and where they are located is critical to setting the right location settings.
If you are targeting a large area for just one coworking space, you are likely wasting a lot of your budget. It'll take a lot for someone to drive 30+ miles to your space! 
A coworking member  will not be willing to drive more than 10-15 miles to get to your coworking space. These are typically professionals looking to have an office space or dedicated workspace close to their home and with great amenities.
Whether you have one coworking space or multiple locations across different cities and states, make sure you aren't targeting more than 10-15 miles from the location.
3. Create a Structured Campaign
Don't dump all of your keywords into one campaign and ad group.
Your campaign structure needs to be strategic, so your keywords aren't competing with each other and you're increasing your relevancy. 
For your coworking space, consider creating campaigns based on your offerings. For example, you can have one campaign for the following:
Meetings rooms

Monthly office rentals

Dedicated desk

Virtual office
You should also have a separate brand campaign that is focused on your company's keywords. For example, WeWork will target keywords relevant to "WeWork" in a brand campaign.
Having an organized account is critical to the success of high-revenue offerings (think monthly private office rentals). You need to be highly targeted to increase your chances of a conversion.
4. Create a Landing Page That Sets You Apart
Landing pages are where you can sell your coworking space. 
Photos of your amenities and office space are absolutely critical. Do not use any stock photos – this will be a big mistake because it doesn't look authentic. When people view photos of your coworking space on a landing page, that's what they will be expecting when they come in.
Share photos of meeting rooms, dedicated desks, and any other amenities that help you stand out against competitors. You should also be listing all of these amenities in a bullet point format on the landing page.
Include enticing offers on your landing page. A common one is a free day pass, but try to think of different promotions. These could be summer promotions or reduced meeting room rates.
5. Make your Ad Copy Compelling
Your ad copy needs to be compelling – after all, the goal is to get clicks and more conversions!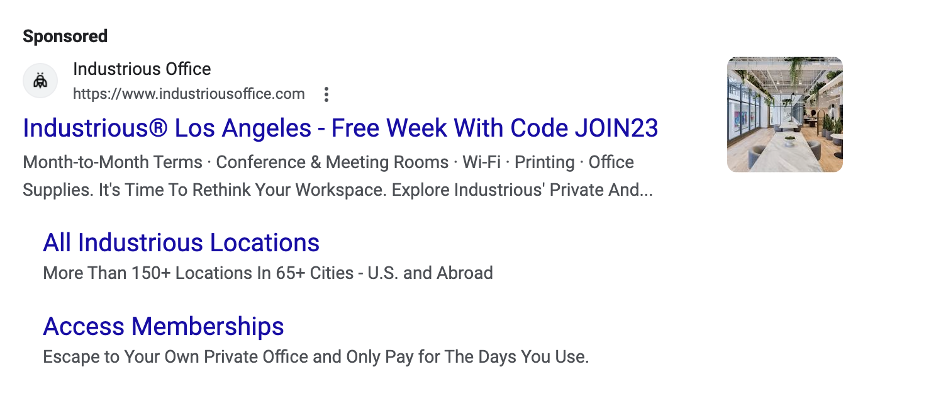 This ad by Industrious Office is a great example of ad copy that can generate plenty of clicks. Let's take a look at what it has.
Image Extensions:

Prospective customers want to know what the space looks like. Image extensions are a great way to provide a quick preview and to persuade people to learn more.

Offers:

Make your offer stands out by adding it to the headline. Make sure your offer lines up with the offer on your landing page.

Amenities:

List all the amenities that you offer! Industrious shares tons of info and offerings that are most relevant to searchers.

Hit Pain Points:

This is about hitting the pain point of target audiences. For example, people needing office space but don't want to commit to a big lease. Mention flexible pricing and things like "private offices" or "month-to-month" contracts.
Include these items in your ad to increase CTR and test to see what resonates best with your audience.
Last Thoughts on PPC Strategies for Coworking Spaces
While these five strategies can help you generate more leads via PPC, do not "set and forget" your campaign. PPC needs constant care and maintenance. Continuing to monitor and refine your strategy can help to attract the right audience consistently. 
If you are a coworking space looking for help with creating and implementing a PPC strategy, contact Level 28 Media for a free discovery call today.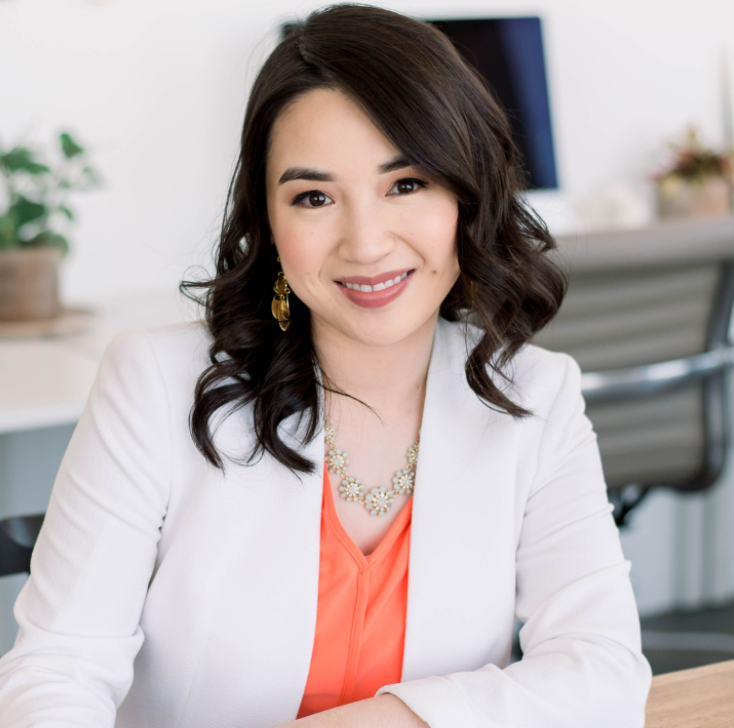 Michelle Kop is a marketing consultant and award-winning pay-per-click marketing strategist. She has over 8 years of professional paid advertising experience in Google and Microsoft Ads, with a specialization in lead generation for B2B and B2C companies.
After working in corporate marketing with Fortune Global 500 Brands like Toyota and BP, Michelle founded Level 28 Media, a lead generation micro-agency for small to medium businesses.